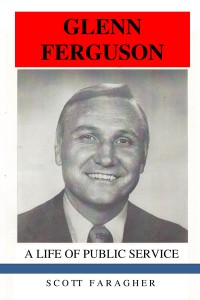 GLENN FERGUSON, A Life Of Public Service by Scott Faragher (Available late summer, 2020) This book has been written and in limbo for more than three years awaiting approval from the subject's son, but is being edited now. (I have three cars in the garage of one of Glenn Ferguson, Jr. houses, so I can't say too much about it). Nashville native Glenn Ferguson was one of the most respected, interesting, and colorful politicians of his era. During his long and successful career as a public servant, he oversaw the dissolution of the separate city/county governments, and spearheaded the formation of what would soon become known as Metro Nashville, the most decisive factor in the emergence of Nashville into the modern era. He also, as councilman for the 16th and 17th Avenues South where the fledgling music business operated, incurred censure and criticism for insisting upon providing a little used park as the location for the original `Country Music Hall of Fame.' He, along with the original leaders of Nashville's music business, took the steps necessary to create what is now known as Music Row.
Later, as Metro Trustee, he instituted unprecedented changes in the process of tax collection which are still in use today. Ferguson was a visionary public servant who actually worked for the people he represented, rather than against them, as is generally the case today. He was an early advocate of the elderly, actively involved in civil rights, and never backed away from a fight when he knew he was right. He actively opposed tax increases, especially property tax increases upon the elderly and poor.
Ferguson's life story provides an interesting and detailed behind the scenes look at the often controversial events and issues taking place in this crucial time (1960s, 1970s, 1980s) as competing political factions wrestled for control of an emerging Nashville, both before and after the formation of Metropolitan Government. The international recognition Nashville enjoys today is largely the fruition of Ferguson's work and his forward vision of a great city, and the struggles it took to reach its current status.
PORSCHE 928 (Available Fall 2022) I've never particularly liked Porsche cars, and considered them glorified Volkswagens, which they were, at least as long as they were produced with air-cooled engines. The 928, on the other hand, was a front engine car, with a great rear suspension as opposed to those silly and dangerous swing-axle rear suspension 356 and 911s. In short, everything about the 928 was revolutionary for Porsche and it had no VW parts or lineage. I found the 928 exciting, interesting, exotic, and quite fascinating. I eventually had a couple of them and, since there was no real book on them other than the legendary `Project 928,' a German book which was released almost concurrently with the car in the late 1970s, I decided to write one myself. I originally wrote this book for Crowood in the UK a decade or so ago but we had creative differences. They were absolutely wonderful people and easy to work with but they didn't especially want me to use factory photos, and understandably wanted me to concentrate more on the right-hand drive models as found in the UK. I'd secured permission from Porsche AG to use everything available, and especially thought the car would be best presented visually using the images from original showroom catalogs since they'd been created for each year of the car's manufacturing run at great by the world's best automotive photographers and at great expense to Porsche. After giving me the leisure to rework some of my book to their specifications, I ultimately decided against doing so as I knew what I wanted to do. I returned their advance and decided to get back to it later. Then, Brian Long, a really great automotive writer came out with the definitive book on the subject from Veloce Publishing, also a UK company, so I decided to move on to something else, since I'd sort of moved on from 928s anyway. Last summer while in Holly Springs, Mississippi, I chanced upon the material and images I'd already assembled and decided at length to go ahead after all, not as the definitive book, but as a good introduction to the 928. I'll get back to working on it this summer, and hopefully, it will be published this spring (2022). 
Come to London by Peter Sullivan with Scott Faragher (Available Spring 2022 ) I met Peter Sullivan 35 years ago through a mutual friend, and we worked on several projects together in the late 1980s, and again in 1995. Peter Sullivan stumbled into the music business at the beginning of what become known musically as `The British Invasion.' He answered an ad in a London newspaper paper and quickly became a successful record promoter for one of the UK's biggest record labels. Based upon his success in that field he campaigned for a job as a record producer which he was given, forcing his way into record production at just the right time.
He was assigned as a paid intern to an already highly successful old school producer who basically didn't want to fool with him, and Peter ended up at Abby Road's stereo studio as it was being constructed, learning the new technology from the beginning. At this point everything was still being released in mono only. Eventually Peter was allowed in the studio to record one of the acts he'd discovered. It was a make or break project for Peter, and if he cost the record company money, he might get one more chance and then his time as a record producer would be over once and for all.
Of the few songs that Peter was permitted to record initially, he selected the song `Shakin' All Over' as the band's most likely release as a single record, but still the song needed some sort of introduction and Peter started messing around with the guitar and came up with the song's classic guitar intro, one of the most enduring in rock music. When the song was finished Peter took it to his boss who approved the recording and asked Peter what the singer looked like, since he would be the band's frontman, and the face which would be presented to the public. Well, Peter hemmed and hawed a bit and told him that the lead singer had one eye which wasn't in sync with his other one, giving him the appearance of a madman. They didn't want to hurt his feelings but had to do something about that eye. With that in mind, Peter told the band they needed some sort of gimmick to put them on top. It was decided that the lead singer should put a patch over his eye, and Peter's wife Joy named the band `Terry & the Pirates.' In the decades which have passed since that original record was released in the UK, it has been recorded by dozens of artists, and remains even now, one of the most recognizable songs in rock history.
Based upon Peter's success with this and other fledgling projects, he discovered singer Tom Jones and subsequently produced every record he had from It's Not Unusual' to She's a Lady' and everything in between including the theme for the James Bond film, `Thunderball,' which many understandably consider to be the singer's greatest work. He also produced many of the early hits of Englebert Humperdink, Lulu, and subsequently every hit of female vocalist Kathy Kirby, the highest paid performer in England, out earning even the Beatles. Tired of working as a salaried staff Producer for EMI, Peter, and Beatles' producer George Martin, along with two associates, formed A.I.R. the first independent record production company in the UK.
Eventually Peter Sullivan and George Martin both moved to Los Angeles, before ultimately moving to Nashville, a city he'd come to love while visiting in search of new songs for Tom Jones to record, one of which was the hit `Green, Green Grass of Home.' These recollections of Peter Sullivan provide a behind the scenes look at the transitional period from the big band era of WW II into the British Invasion of the 1960s, the advent of stereo recording, and beyond.
The Nashville I knew. Scott Faragher (available fall, 2022) In 1984, famous Nashville attorney Jack Norman, Sr. wrote a book about his recollections of the Nashville he remembered. By the time I was growing up in my native Nashville, much had changed. The people who viewed the `hillbilly' singers as something they hoped would go away if you didn't feed it as late music publishing magnate Buddy Killen observed, eventually changed their tune with the initial success of the Opryland theme park, and the wider national acceptance of country music as legitimate.' Much of the significant architecture has been lost in the last half century, along with many landmarks as well as businesses native Nashvillian thought would last forever.
The Nashville I remember began in the 1950s and continues through today as Nashville changed from basically a small town to a city of international significance. While each successive generation creates its own memories, I invite you to come with me on a delightful trip to the Nashville I remember.