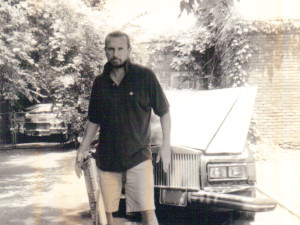 THE BASICS: I'm a native Nashvillian, attended Julia Green elementary school, BGA (Franklin, TN), Baylor (Chattanooga, TN), Columbia Military Academy (Columbia, TN.) Hillsboro High School (Nashville) entered the US Navy in 1968-1970), Belmont College, University of Tennessee in Chattanooga, MTSU (Murfreesboro, TN), graduated from none of the above.
MUSIC BUSINESS: I was unexpectedly offered a job as a talent agent at the end of 1973, at the newly formed Nova Agency in Nashville, despite the fact that I had no prior knowledge or experience. We started as exclusive agents for Waylon Jennings, David Alan Coe, Dr. Hook, Jessi Colter, Tompall Glaser, and Jerry Lee Lewis. During my 20 years in that field I worked as one of the exclusive agents for Ronnie Milsap, Johnny Rodriguez, Merle Haggard, Tammy Wynette, Don Williams, Johnny Duncan, Johnny Paycheck, Johnny Bush, Ray Price, the Statler Brothers, Dave and Sugar, Frizelle & West, Brenda Lee, Vern Gosden, Barbara Mandrell, Louise Mandrell (Lavender-Blake Agency, and Dick Blake International)                                                        
IN CONCERT INTERNATIONAL As president and part owner of In Concert International, I worked as exclusive agent, for Mickey Gilley, Ricky Skaggs, Johnny Lee, Charly McClain, Jerry Lee Lewis, Carl Perkins, Gene Watson, Brenda Lee, James Brown, Lou Rawls, Fats Domino, and others. After that I briefly worked as an agent at the Jim Halsey Agency, and World Class Talent, before serving as manager/agent for Country singer Ray Price.
WRITING: My first book was published in 1992 (see `My Books')
INTERESTS
I basically consider everything as art
CARS My interests are many and varied. I like cars of all types, even ones I'd never actually want. The idea that there can be so many different interpretations of the basic format of `four wheels' is intriguing. My first car, when I was 20, was a 1960 Lincoln MK V coupe, after that several 1964 Lincolns, and finally my first Jaguar XK-E, a 1961 roadster with outside hood latches. For the next ten years I was obsessed with Jaguars, and owned 11 more E Types, both roadsters and coupes, none later than a 1967 series one. During this time I had other Jaguars as well, including XK 120s and 140s, all of which I loved. In my mid 20s I got my first 1967 Eldorado, kept it for a couple of years, before getting my first Cadillac convertible at age 26. By age 34 I got my first Rolls-Royce (as a company car), a 1948 Silver Wraith, and a year later a Bentley S-1. I had several Lincoln convertibles during this time as well as 1975 and 1976 Cadillac Fleetwoods.  Now I use 1995-1999 Mercedes S Class sedans (420 and 500s) as daily drivers and a Rolls Spur which I generally drive only in cold weather. But I'm interested in all cars, even ones that I don't like.
ARCHITECTURE  I am and have always been interested in architecture of all types, and from all periods, including municipal, residential, commercial, and industrial. Form, structure, and purpose. I especially enjoy the antebellum architecture of the South, and reside during the warmer months at Grey Gables, in Holly Springs, Mississippi, an 1840s-1870s Italianate house of unusual, but interesting exterior design with a traditional interior layout. Essentially, to me, architecture represents the highest achievement of any culture. Where it is lacking, culture is lacking.
MUSIC Music is truly the international language, and at its best, speaks to and from the soul. It inspires, calls to action, expresses and feeds my joy at living, and indeed freezes both happiest and saddest moments. A catchy melody essentially grabs and takes me where it will, based upon the way I feel at any particular moment. Something as simple as a brief background passage from a horn section, or any other instrument can stay with me forever. I pretty much like all instruments and play guitar, bass, piano, and organ, adequately but not especially well. I'm self taught, and since my teacher didn't know anymore than I did…well. As far as piano is concerned, every piano player who grew up in the 1950s or 1960s, including myself was influenced, even if unconsciously by Jerry Lee Lewis. My greatest influence has been Henry Byrd, AKA Professor Longhair, a New Orleans master. He really was `that' fast. I'm learning saxophone now. It's a more difficult instrument to master than guitar, and its not an instrument one can generally speaking, practice quietly. Horns, unlike any other instrument are played with one's breath, and literally are, in the hands of an expert, `an extension of one's being.' As far as guitars are concerned, I, like most musicians have pretty much had everything at one time or another. I've always preferred electric guitars, particularly Rickenbackers. With organs, it's vintage Hammonds, but I like older Lowreys, even though I've personally never owned, or even played one. Musical instruments, like cars, guns, and many other objects can be works of art, apart from their primary function.
ANTIQUES I was raised around antique furniture at a time when the masses were seeking that which was new and modern. My mother used to take me to antique auctions in my teens, and I worked on Saturdays in college at an antique store in Murfreesboro, Arnette's. Mr Arnette generally imported furniture from Scotland and England, but also brought over old Rolls-Royces, all of which had hand made aluminum coachwork. I remember my mother telling me once, that one can often buy furniture of exceptional beauty and quality, cheaper than popular modern furniture. That stuck with me. She liked classical English furniture, and so did I, but she also liked Shaker, and American primitive. My tastes run more toward French and American Empire, but I also greatly appreciate the elaborate furniture of the antebellum era, especially the elaborate chairs and sofas of German born John Henry Belter, and the beds and armoires of Prudent Mallard, Charles Lee, and Meeks. Lately, I've bought a few pieces of primitive early 1800s American furniture. Most of them were hand made by unknown individuals and were more functional than decorative.                        It's also interesting to note that many people who have `period houses' logically seek to furnish them solely with furniture which existed at the time a house was built, for example, only 1820s furniture for an 1820s house. I read somewhere that while this is still a common approach, in truth inhabitants of any period house would likely buy more modern furniture as time passed. That being the case, anything subsequent to the construction date would be legitimate. One of the members of the Antiques Road Show staff recently told me that `brown furniture' was over, to which I replied "So much the better, that means more for me." She asked, "Surely you aren't stockpiling it, thinking that it will be valuable again?" I buy anything I buy because I like it. That's reason enough. That which is truly magnificent remains so, though fads and styles come and go. As Coco Channel reportedly observed, "Fashion often goes out of fashion, but style is always in style" (or something to that effect).                                                              Other antiques I like are clocks of all types, especially early 19th century elaborate French gilded bronze, but I also enjoy massive grand and square grand pianos of the same era.
MACHINES I like machines of all types, including antique cast iron ceiling fans, gasoline and diesel engines, airplanes, ships, boats, cameras, guns, gears, bicycles, motorcycles, lawn mowers, tractors, in short, anything mechanical, machines of every type.
HOBBIES I enjoy outdoor activities, especially mountain biking.