AVAILABLE NOW
The following books are AVAILABLE NOW from Amazon, createspace e-store, kindle, or by order from any bookstore. All are 6 x 9 inches.
THE PIGEON DROP By Scott Faragher 296 pages with 28 photographs. Price: $14.95
Marduk, the Supreme Leader of the powerful Secret Chiefs addressed the Councilmembers with the very ominous words, "Gentlemen, the earth needs to take a big crap and excrete these vile, disgusting, filthy, human rodents once and for all. They were fine as slave laborers when we created them to mine Rotanium on this planet. Since we no longer require that substance, they are, in effect, redundant. We will destroy this place with a one dimensional death star which will become three dimensional when it enters this galaxy. Their ignorant so-called scientists will think it an illusion, until it's too late. Time factor? Three weeks. These disgusting wretches must be exterminated !"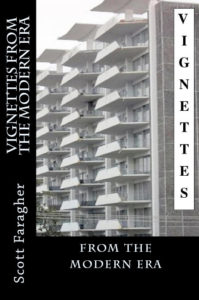 VIGNETTES FROM THE MODERN ERA By Scott Faragher. 140 pages with 37 photographs. Price: $14.95
Why Modern'? Because all are a series of events, snapshots, so to speak, with a specific beginning and end. And yet, nothing happens within a vacuum. Everything is interconnected. And why `Modern'? The present is always the modern era and post modern would therefore technically be, the future. But the modern in time, soon becomes the archaic. The fifty or so short stories included are true and happened to, or were witnessed by the author, and, or, persons he has known. They are what they are.
I look at these happenings in much the same way I look at a photograph, something fixed permanently in time, something defined by light, or its absence, and shutter speed. Everything which exists within a specific moment in time is ultimately part of a larger continuum, which hopefully survives, somehow, somewhere, despite its dissolution here.
                                                                         
 "Don't worry too much about the author. It is sufficient to know that he wrote the material included herein."  D.R. Twine, MD
THE ARLINGTON RESORT HOTEL & SPA By Scott Faragher & Katherine Harrington     167 pages, with 135+ current and vintage photographs and images    Price: $19.95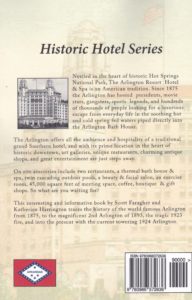 With its footprints in three centuries, the historic 500 room Arlington Hotel is one of America's grand hotels. Originally built as a wood structure in 1875, the first hotel was replaced with a magnificent new all brick Arlington Hotel in 1893. It was designed to accommodate patrons from around the world who regularly visited Hot Springs National Park in search of cures for various ailments, or just to relax. It truly rivaled any hotel in America at the time, and patrons would often stay for weeks or months at a time. By 1920 Hot Springs was one of America's most desirable resort destinations, with dozens of hotels catering to all classes of society. Sadly, a tragic fire destroyed the beautiful second Arlington in 1923. For a few brief days it looked like that was the end of the Arlington, which like the original, was located at the top of Bath House Row, literally within Hot Springs National Park. But the hotel was so popular and its owners so respected that financing was quickly arranged to build the even more massive and elegant 1924 Arlington, which still stands today at the top of Bath House Row, only now on private land. One can honestly state that Bath House Row begins outside its front door. All of the formerly grand hotels of Hot Springs, like the gigantic Eastman, and the Majestic are gone now, but the Arlington proudly remains This interesting and informative book by Scott Faragher & Katherine Harrington traces the history of the world famous Arlington from 1875, to the elegant 1893, through the fire which destroyed it to the current 1924 Arlington.