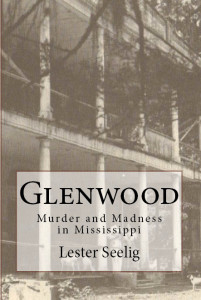 GLENWOOD Is the first book from DEATHCAT MEDIA (Available late December 2015)
Natchez, Mississippi                                                                                                            
Wealthy aristocrat Mark Delgado arrives at Eldorado for his regular nightly visit with equally rich and and pedigreed cousin, Jeannie Murdock, and finds the front door to her elegant 1840s raised cottage unexpectedly open, and no sign of her. A quick and desperate search of the house reveals a trail of blood leading to the side porch, down the exterior stairs, and to the driveway. Delgado calls the police, who quickly determine that Miss Murdock has been murdered and her body moved. She is found dead early the next morning in a thicket of weeds on the densely wooded property of her neighbors' decaying antebellum mansion. Glenwood.
When the eccentric man and woman who live at Glenwood are arrested and charged with their neighbor's murder, Los Angeles celebrity defense attorney Mark Weinstein, intrigued by the case, and lured by the international press it generates, arrives in Natchez, Mississippi on his own private jet. With his host of junior attorneys, and his own press corps in tow, he expects to easily exonerate the defendants and return home to L.A. Instead, he finds himself facing a determined DA with a distinct home court advantage, and his own `dream team' immersed in a dark and many layered culture which they don't grasp, one which plays by its own rules. There are others not directly involved in the matter, who have their own reasons for making certain this case never goes to trial, who will stop at nothing, including murder, if necessary, to keep Weinstein from representing the defendants.
This interesting tale, inspired by the true story of the sensational 1932 `Goat Castle Murder' has been updated and dynamically retold in the present by author Lester Seelig, of Nashville, and Palm Beach. He manages to capture the subtle nuances and undercurrents of a culture closed to outsiders, as only a native southerner can, in this interesting, emotionally charged tale, which takes place in exotic Natchez, an exquisitely beautiful place, untouched by time.